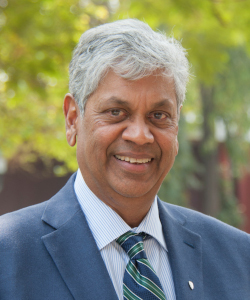 Dear Colleagues,
I trust this message finds you all safe and in good health. Much has happened over the past 6 months which has caused us to continue to make severe adjustments to our personal and professional lives. The COVID-19 virus continued to spread across the country, with just about every one of our provinces seeing increases in case outbreaks and rising number of deaths. I am sure some of us have had to deal with the loss of close family members and friends, and this was not easy, given the circumstances. Our hearts and thoughts are with all those affected at this time.
The next few months will continue to test our resilience. One hand there is the very positive news of vaccines that will provide immunity, and these will be rolled out to different communities and demographics over the next 6 to 8 months. On the other hand, there are still many unanswered questions, and this will require us to continue to take all the necessary safety and health precautions, as we go about our business at home and in the workplace, on campuses etc. Let us continue to be vigilant, and mindful that we are still not out of the woods.
The COVID-19 pandemic has caused us to look at new virtual formats for both the CSBE-CIGR meeting in Quebec City, and the ASABE 2021 Annual International Meeting. You will hear more about the CSBE-CIGR meeting from the local conference organizing committee. They are planning something very exciting and I encourage you all to find ways to participate. This will include our Annual General Meeting. Stay tuned! In addition, ASABE is offering us space at the 2021 virtual AIM to have a special CSBE technical session. We are working out the details and will be back with some suggestions. Everyone is doing their best to make sure our membership remains active and connected during this period of uncertainty. In addition, Keith Duhaime has done a superb job with the monthly webinars and we will be continuing these in the coming months. I encourage you to attend. They are an excellent way to support our graduate students and see the excellent work they are doing. We also have a very exciting special webinar planned for March! Stay tuned!
The CSBE Council is active, and has been meeting quarterly, taking on some new initiatives, despite the pandemic. You will read about some of these in the newsletter. I hope that you will use the newsletter to share ideas and news with the membership. I know that many of you are doing exciting work, and it would be good to read about it in the newsletter. Please consider contributing.
I close by wishing you a very happy holiday season, to have good health, and to remain safe. All the very best for a strong and successful 2021!
Chers collègues,
J'espère que vous êtes tous en sécurité et en bonne santé. Beaucoup de choses se sont passées au cours des six derniers mois, ce qui nous a amenés à faire des ajustements considérables dans notre vie personnelle et professionnelle. Le virus COVID-19 a continué à se propager dans tout le pays, et presque toutes nos provinces ont enregistré une augmentation du nombre de cas et de décès. Je suis sûr que certains d'entre nous ont dû faire face à la perte de membres de leur famille et d'amis proches, et cela n'a pas dû être facile, compte tenu des circonstances. Nos cœurs et nos pensées vont à tous ceux qui sont touchés en ce moment.
Les prochains mois continueront à mettre notre résilience à l'épreuve. D'une part, il y a les nouvelles très positives concernant les vaccins qui nous immuniseront, et ceux-ci seront mis en place dans différentes communautés et dans différents groupes démographiques au cours des 6 à 8 prochains mois. D'autre part, de nombreuses questions restent sans réponse, ce qui nous obligera à continuer de prendre toutes les précautions nécessaires en matière de sécurité et de santé, dans le cadre de nos activités professionnelles à la maison et sur le lieu de travail, sur les campus, etc. Restons vigilants et conscients que nous ne sommes pas encore sortis d'affaire.
La pandémie de COVID-19 nous a amenés à envisager de nouveaux formats virtuels pour la réunion de la CSBE-CIGR à Québec et pour la réunion internationale annuelle de l'ASABE 2021. Vous en apprendrez davantage sur la réunion de la CSBE-CIGR en vous adressant au comité organisateur du congrès local. Ils préparent quelque chose de très intéressant et je vous encourage tous à trouver des moyens d'y participer. Cela comprendra notre assemblée générale annuelle. Restez à l'écoute ! En outre, l'ASABE nous offre un espace à l'AIM virtuel 2021 pour une session technique spéciale de la CSBE. Nous sommes en train de mettre au point les détails et nous vous reviendrons avec quelques suggestions. Tout le monde fait de son mieux pour s'assurer que nos membres restent actifs et connectés pendant cette période d'incertitude. De plus, Keith Duhaime a fait un travail remarquable avec les webinaires mensuels et ils vont se poursuivre dans les mois à venir. Je vous encourage à y participer. Ils sont un excellent moyen de soutenir nos étudiants diplômés et de voir l'excellent travail qu'ils accomplissent. Nous avons également prévu un webinaire spécial très intéressant pour le mois de mars ! Restez à l'affût !
Le Conseil du CSBE est actif et se réunit tous les trimestres, prenant quelques nouvelles initiatives, malgré la pandémie. Vous en apprendrez plus sur certaines d'entre elles dans le bulletin d'information. Je vous encourage à utiliser le bulletin d'information pour partager des idées et des nouvelles avec les membres. Je sais que beaucoup d'entre vous font un travail passionnant et il serait intéressant d'en apprendre d'avantage via le bulletin d'information. Merci d'envisager d'y contribuer.
Je termine en vous souhaitant de très bonnes fêtes de fin d'année, une bonne santé et la sécurité. Mes voeux les plus sincères pour une année 2021 forte et réussie !