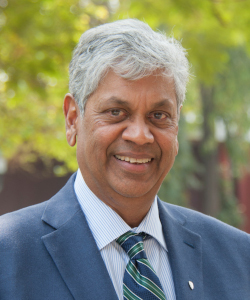 Dear Colleagues,
Let me first take this opportunity to wish you well during the current pandemic. On behalf of CSBE council, I thank you all for your understanding with the changes we had to make to our 2020 AGM, and for not being able to meet in Quebec City with CIGR. We hope that the global health situation will improve by next summer, so that we can convene in person in Quebec City.
The COVID-19 pandemic has forced us to adapt our lives to ensure not only our personal safety, but also to all around us. We have to act responsibly in large community settings, a characteristic which has always defined our work whether it be in agricultural engineering, bioresource engineering, biological engineering, biosystems engineering, environmental engineering, or natural resources engineering. We are a very human centered agglomeration of engineers, solving some of the biggest challenges and threats facing the sustainability of our ecosystem – the planet. As Professor Tim Geary, the invited speaker at our AGM reminded, working with other disciplines, we are very well positioned to engineering a safer planet, now in the midst of the COVID-19 pandemic, and after the pandemic, as economies, sectors, and institutions are rebuilt. As we are currently witnessing in just about every sector, resilience is at the core of the rebuilding efforts.
Resilience in all forms has always been at the core of our professional endeavours. CSBE members are therefore well positioned to adapt and rebuild in the most imaginative and creative ways during this very daunting period of COVID-19. I look forward to hearing about some of the innovations that you have brought to the profession, as a result of the pandemic, perhaps at next year's technical sessions.
I close by thanking the outgoing members of Council for their dedicated service to the Society, and I am confident that the recently elected members of Council will strive to serve the membership in new ways, as we deal with the impacts of COVID-19 on the Society.
Please continue to stay safe and healthy.
With my very best.
Chandra A. Madramootoo ing.
Chers collègues,
Permettez-moi tout d'abord de saisir cette occasion pour vous souhaiter bonne chance pendant la pandémie actuelle. Au nom du conseil du CSBE, je vous remercie tous de votre compréhension pour les changements que nous avons dû apporter à notre AGA 2020, et de ne pas avoir pu se rencontrer à Québec avec le CIGR. Nous espérons que la situation sanitaire mondiale s'améliorera d'ici l'été prochain, afin que nous puissions enfin nous réunir en personne à Québec.
La pandémie de COVID-19 nous a obligés à adapter notre vie pour assurer non seulement notre sécurité personnelle, mais aussi celle de tous ceux qui nous entourent. Nous devons agir de manière responsable dans les grandes communautés, une caractéristique qui a toujours défini notre travail, que ce soit en génie agricole, en génie des bioressources, en génie biologique, en génie des biosystèmes, en génie environnemental ou en génie des ressources naturelles. Nous sommes une communauté d'ingénieurs très centrée sur l'humain, qui résout certains des plus grands défis et menaces qui pèsent sur la durabilité de notre écosystème - la planète. Comme l'a rappelé le professeur Tim Geary, l'orateur invité à notre assemblée générale, en travaillant avec d'autres disciplines, nous sommes très bien placés pour concevoir une planète plus sûre, pendant et après la pandémie COVID-19, alors que l'économie, les secteurs et les institutions se reconstruisent. Comme nous le constatons actuellement dans presque tous les secteurs, la résilience est au cœur des efforts de reconstruction.
La résilience sous toutes ses formes a toujours été au cœur de nos efforts professionnels. Les membres de la SCGAB sont donc bien placés pour s'adapter et reconstruire de la manière la plus imaginative et créative possible pendant cette période très décourageante de la COVID-19. J'ai hâte d'entendre parler de certaines des innovations que vous avez apportées à la profession, en raison de la pandémie, peut-être lors des sessions techniques de l'année prochaine.
Je termine en remerciant les membres sortants du Conseil pour leur dévouement au service de la Société, et je suis convaincu que les membres du Conseil récemment élus s'efforceront de servir les membres de nouvelles manières, alors que nous traitons des impacts de COVID-19 sur la Société.
Je vous prie de continuer à rester en sécurité et en bonne santé.
Avec mes vœux les plus sincères,
Chandra A. Madramootoo ing.