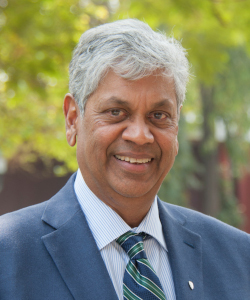 Dear Colleague Members of CSBE,
As we watch the snow melt, and grass re-appearing, we look forward to the new life that will emerge in the coming weeks with Spring. And indeed it is a new life, not just climatologically, but as we watch with cautious optimism the slow return to a post-pandemic period. It is going to be a different life in many ways. Thanks to rapid advances in vaccine technology, we have hopes for a return to some form of 'normal", and perhaps positively to the way we knew life prior to March 2020. But at the same time, we have learned to adapt over the past 12 months, and telecommuting may be a new normal for some of us. Certainly universities have changed the way courses are delivered, and there will be some, both teachers and students, who see the benefits of mixed mode on-line teaching combined with in-person classroom and lab teaching.
We all work on exciting real-world problems and as engineers, we are required to collaborate in multi-disciplinary teams. This means that the faster we can return to our accustomed settings, be they the office, the field, processing plants, or labs, the better we can focus our energies on problem solving. Barring any unforeseen public health emergencies, I am hopeful that by the Fall, we can be fully functional again.
Our Annual General Meeting will be virtual again this year, and we will be collaborating with CIGR to deliver an exciting technical program in mid -May. You will find more details on the event website. Also we are collaborating with ASABE to have a special networking event for our CSBE graduate students at the Annual International Meeting in July. In the meantime, for those in the University, please encourage your graduate students to become CSBE student members, so that they can participate in this exciting opportunity. More details will follow.
In closing I encourage you to participate in the AGM, and to bring your ideas to the table. I look forward to seeing you virtually this May, and in person at next year's Conference in PEI.
With my very best.
Chandra A. Madramootoo ing.
---
Chers collègues membres de la SCGAB,
Alors que nous observons la neige fondre et la réapparition de l'herbe, nous nous réjouissons de la nouvelle vie qui émergera dans les semaines à venir avec le printemps. Et en effet, il s'agit d'une nouvelle vie, non seulement sur le plan climatique, mais aussi parce que nous observons avec un optimisme prudent le lent retour à une période post-pandémique. Ce sera une vie différente à bien des égards. Grâce aux progrès rapides de la technologie des vaccins, nous pouvons espérer un retour à une certaine forme de "normalité", et peut-être même à la façon dont nous connaissions la vie avant mars 2020. Mais en même temps, nous avons appris à nous adapter au cours des 12 derniers mois, et le télétravail pourrait être une nouvelle normalité pour certains d'entre nous. Les universités ont certainement changé la façon dont les cours sont dispensés et certains, enseignants et étudiants, verront les avantages d'un enseignement en ligne en mode mixte combiné à un enseignement en classe et en laboratoire.
Nous travaillons tous sur des problèmes passionnants du monde réel et, en tant qu'ingénieurs, nous sommes tenus de collaborer au sein d'équipes pluridisciplinaires. Cela signifie que plus vite nous pouvons retourner dans nos environnements habituels, qu'il s'agisse du bureau, du terrain, des usines de traitement ou des laboratoires, mieux nous pouvons concentrer nos énergies sur la résolution de problèmes. À moins d'une urgence imprévue en matière de santé publique, j'ai bon espoir que d'ici l'automne, nous serons de nouveau pleinement fonctionnels.
Cette année encore, notre assemblée générale annuelle sera virtuelle et nous collaborerons avec le CIGR pour proposer un programme technique passionnant à la mi-mai. Vous trouverez plus de détails sur le site web de l'événement. Nous collaborons également avec l'ASABE pour organiser un événement spécial de réseautage pour nos étudiants diplômés de la SCGAB lors de la réunion internationale annuelle en juillet. En attendant, pour ceux qui sont à l'université, veuillez encourager vos étudiants diplômés à devenir membres étudiants de la SCGAB, afin qu'ils puissent participer à cette opportunité excitante. Plus de détails suivront.
En terminant, je vous encourage à participer à l'AGA, et à apporter vos idées à la table. J'ai hâte de vous voir virtuellement en mai, et en personne au Congrès de l'an prochain à l'Île-du-Prince-Édouard.
Avec mes meilleures salutations.
Chandra A. Madramootoo ing.