Annamalai Manickavasagan, PhD, P.Eng.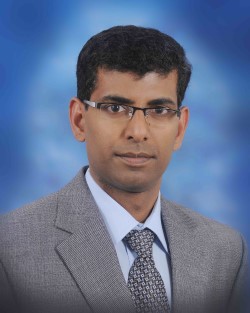 Manick obtained his Doctorate in Biosystems Engineering from the University of Manitoba, Canada. At present, he is an Associate Professor at the University of Guelph, Canada. His current research interests are: food quality assessment using computer vision techniques, plant protein foods, pulse processing, whole grain processing, and product development. He has published 75 scientific papers in peer-reviewed journals and edited 9 books. He is a recipient of several research awards including, "Research Excellence Award" – University of Guelph (2021-2022), "John Clark Food Engineering Award" – Canadian Society for BioEngineering (2020), "Distinguished Researcher Award" – Sultan Qaboos University (2014), and "Best Young Researcher Award" – Sultan Qaboos University (2012).
He is the Founder and President of Whole Grains Research Foundation in India. Through this foundation, he is promoting the whole grains research in Asia region.
Sébastien Fournel
I am an assistant professor in agricultural engineering with research interests in design and environmental control of animal buildings, precision livestock farming, manure management, animal welfare, greenhouse gas mitigation, energy efficiency, and conversion of agri-food biomass. I am also devoted to promote teaching innovation through the Chair in Educational Leadership on Sustainable agricultural buildings that I lead. I love playing sports like hockey, baseball, volleyball, and tennis. With my wife and kids, I also do a lot of biking and hiking. As Québec's Director, I wish to develop and maintain a regional committee that will be in charge of organizing on a recurrent basis a provincial Agri-Food Engineering Symposium.
Je suis professeur adjoint en génie agroenvironnemental. Mes intérêts de recherche portent sur la conception et le contrôle environnemental des bâtiments agricoles, l'élevage de précision, la gestion des fumiers, le bien-être animal, la réduction des gaz à effet de serre, l'efficacité énergétique et la valorisation des résidus agroalimentaires. Je suis aussi impliqué en innovation pédagogique grâce aux travaux de la Chaire de leadership en enseignement des bâtiments agricoles durables que je mène. J'adore pratiquer des sports comme le hockey, le baseball, le volleyball et le tennis. En famille, nous faisons également beaucoup de randonnées pédestres ou à vélo. En tant que directeur régional pour le Québec, je souhaite mettre en place un comité pérenne qui sera en charge d'organiser de façon récurrente un symposium en génie agroalimentaire.
Venkatesh Meda
Dr. Meda started at the Department of Agricultural and Bioresource (currently, Chemical and Biological Engineering) Engineering at the University of Saskatchewan in August 2002. Prior to this position, Dr. Meda worked as a Project Development Officer, Office of Vice-President (research and International), McGill University during 2000-2002. He has extensively participated in discussion(s) /seminars conducted by CIDA, World Bank, ADB on poverty reduction, food safety and security, rural development and International agriculture topics. Dr. Meda has a well established research program on utilising electrotechnologies (microwaves, radio frequency, infrared, UV energy spectrum) for treating and processing agricultural, food, feed and biological materials in Western Canada. His expertise in drying and extraction technologies is highly recognised.
The areas of research in which Dr. Meda works and maintains momentum include bioprocess engineering, value-added food process engineering and post-harvest technologies (storage, drying, distribution) for agricultural high and low moisture commodities. He had completed several research projects under the Agricultural Bioproducts Innovation Network (ABIP) grants connecting the researchers across the Provinces in Canada, AAFC (Agriculture and Agri-Food Canada), and Industry partners in bioenergy, biofuels and bioproducts. For the past few years, Dr. Meda has been leading the projects dealing with utilisation of electromagnetic energy for sensing, heating/drying of agricultural and food/feed materials for downstream processing in the value-chain; fruit dehydration; water decontamination method development using 'hybrid' of microwave plus UV energy, cereal grain modification for resistant starch studies for health benefits, co-product utilisation in bio refineries network in Western Canada, and biological materials handling and characterisation. He has been awarded CSBE-SCGAB's John Clark and Fellow Awards (2013, 2019) for his outstanding contribution in the field of food process engineering and currently re-elected to serve as a regional director of SK.
Dr. Meda's enthusiasm continues to thrive on integrating approaches to food systems research and development activities ultimately addressing the global food security challenges.
Why interested?
I am interested in serving as a Councilor (SK regional director) for accelerating the momentum around technical events and disciplinary promotion in Canada. I would like to renew the academic and research clusters for an integrated opportunity and creation of cross-sectoral linkages (conference, journal themes, workshops, student chapter, webinars, etc.).